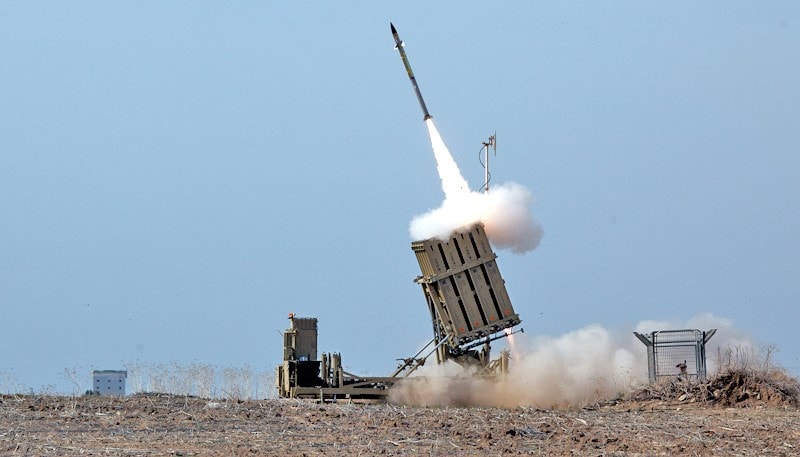 Israel's Iron Dome has been highly effective in intercepting incoming rockets fired by Gaza terrorists. However, defense officials fear that Hamas will be targeting the anti-missile system's batteries in a future war in an effort to disable them.
The IDF is already preparing some counter-measures ahead of the next round of fighting in the south, military corespondent Yossi Yehoshua says. But army officials fear that Iron Dome is still vulnerable, he wrote in daily newspaper Yediot Aharonot.
The report suggests that the recent arrest of a Hamas spy network inside Israel triggered alarm among security officials. The terror group's agents were told to pinpoint the locations of Iron Dome batteries, among other sensitive sites.
Meanwhile, Hamas is making an effort to upgrade its drones for attack missions, Yehoshua wrote. The group has already tried to hit an IDF tank by sending a drone armed with a rocket into Israeli territory, news website Ynet reported recently.
The IDF has put some measures in place to intercept incoming drones. However, military officials are concerned that a precision-guided aircraft could penetrate the defenses and hit an Iron Dome position. The army continues to search for answers to this alarming development.
Hamas Failure
The efforts invested by terrorists in targeting Iron Dome attest to its great success, and to Hamas' failure to cope with it. Reports last year suggested that terror groups found a way to overcome the system by firing heavy barrages. However, this tactic did not seem to work in recent fighting.
Notably, the IDF recently upgraded Iron Dome, which can apparently respond to a wider range of threats now. Israel is also developing and improving other systems that can shoot down heavier missiles.
Defense officials believe that the next major war will feature daily missile barrages at Israeli towns. Air defenses such as Iron Dome are therefore of critical importance. However, in case of war, the IDF will divert some batteries to protect military assets rather than civilian communities.
Earlier this year, retired IDF general Yitzhak Brik warned that Israel has failed to come up with an effective response to major missile attacks. Brik says that the military is ill-prepared to fight an all-out war, but army officials have been downplaying his warnings.