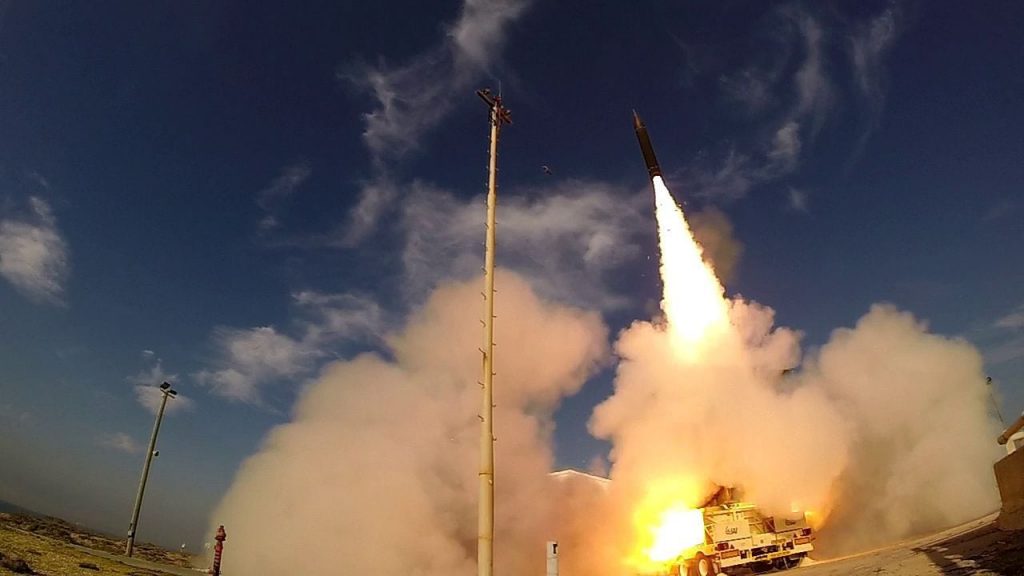 As it faces a growing missile threat, Israel is racing to upgrade its own missile technology for a future war. In recent weeks, the country's defense establishment has taken steps to boost both its defensive and offensive capabilities.
On Sunday, the Defense Ministry announced that it carried out a series of tests to upgrade the Iron Dome missile defense system. The Ministry said that the new capabilities will offer protection against "present and future threats."
The tests simulated several threat scenarios that Israel will be coping with in future conflicts, the Ministry said. Iron Dome intercepted 100 percent of the rockets fired during the sessions, officials added, but did not elaborate on the nature of the upgrade.
Below is an impressive-looking video released by the Defense Ministry of the recent tests.
Notably, military observers have raised concerns about terror groups potentially overwhelming Iron Dome by launching a large number of rockets simultaneously. The latest improvements may enhance the system's capacity for dealing with such barrages.
In a future conflict, defense officials expect Israeli cities to by targeted with hundreds and possibly thousands of missiles daily. Some observers have warned that the IDF is ill equipped to counter a major offensive.
Elite Forces Get More Missiles
Meanwhile, defense contractor Rafael has boosted the range of its advanced Spike SR anti-tank missile to two kilometers, the company said on Monday. Rafael recently tested the upgraded precision-guided missile in a series of tests in southern Israel.
The IDF has equipped its elite infantry forces with an undisclosed number of Spike missiles of various models. These and similar weapons significantly boosted the firepower available to troops as they embark on offensive operations in enemy territory.
Notably, the army recently supplied its elite Givati Brigade with an "unprecedented" number of anti-tank missiles, news website Walla! reported over the weekend. Givati will soon practice the use of these missiles in a wide-ranging drill, the report said.
Late last year, the Defense Ministry carried out an unspecific missile test in central Israel. Subsequently, observers speculated that the army test-fired one of its long-range Jericho missiles as part of the test. These ballistic missiles are capable of carrying a nuclear warhead, according to unconfirmed foreign reports.
The mysterious test also served as a warning message to Iran, amid heightened tensions in the region. Defense officials are seeing a growing likelihood of war in 2020, and in the past year have escalated their preparations for a wide-ranging conflict.
In 2018, then-Defense Minister Avigdor Lieberman promoted the establishment of a missile corps as part of the IDF's infantry force. The plan, which has not been fully advanced yet, aims to equip ground forces with a large arsenal of medium-range missiles.