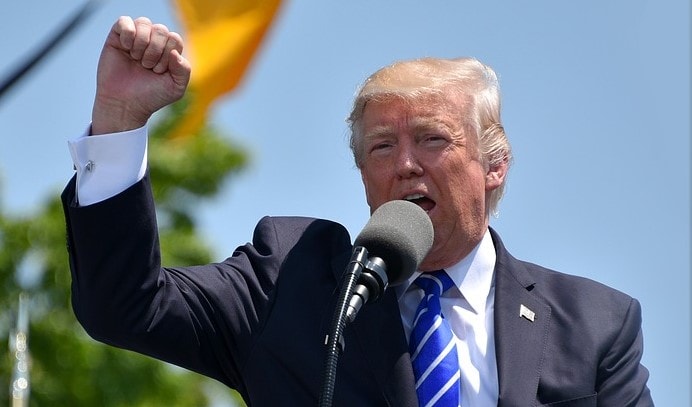 Prime Minister Benjamin Netanyahu is questioning President Donald Trump's determination to stand up to Iran, Channel 13 reported Thursday. Netanyahu told ministers recently that Israel should not count on Trump to take any action against Iran before the 2020 elections, the TV report said.
For now, Israel will have to face the Iranian threat alone, the prime minister reportedly told the cabinet. Netanyahu has been worried about Trump's policy decisions for a while now, said Channel 13's diplomatic correspondent Barak Ravid.
On Thursday, Netanyahu implicitly accused Trump of emboldening Tehran by not responding to Iranian aggression. "Iran's boldness is growing, and will keep growing in the absence of a response," he said at an Israel Defense Forces ceremony.
Netanyahu: Iran Threats 'Everywhere'
However, Netanyahu made clear that Israel is prepared to counter any attack and will not hesitate to retaliate. Belligerent parties will pay a "heavy price" for attacking Israel, he told graduates of an IDF officer training course
"Threats are popping up everywhere; in Lebanon, Syria, Iraq, the Gaza Strip, and Yemen," Netanyahu said. Earlier this week, he charged that Iran was deploying advanced missiles in Yemen in order to target Israel from there.
Netanyahu's comments come amid Israeli fears that Iran is planning a major assault on Israel. On Friday, Knesset Member Avigdor Lieberman warned that the country was facing an "emergency situation," citing alarming remarks by the Air Force chief. The former defense minister called to establish a national unity government to cope with the challenge.  
Earlier this month, Lieberman warned that damage caused by Israeli retaliation to an Iranian assault would take dozens of years to repair.