Is Hezbollah planning surprise attack on Israel-Syria border while all eyes are on Lebanon? IDF's aggressive conduct on Golan suggests threat level is growing.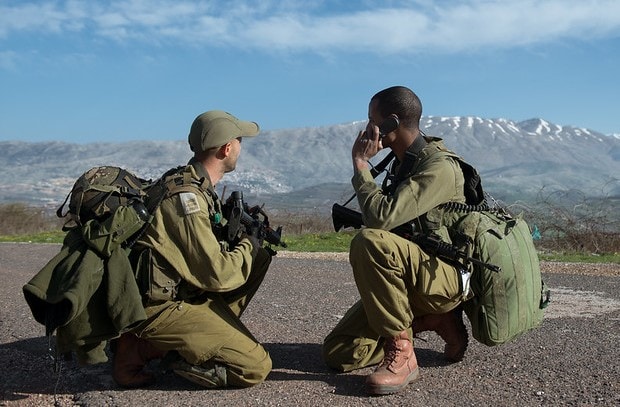 A recent uptick in action on the Israel-Syria border suggests growing IDF concern about potential attacks. The army is not offering many details, but its increasingly aggressive conduct on the Golan Heights hints that plans to strike Israel could be in the works.
Last week, the IDF conveyed a stern warning to shepherds who crossed the border and approached the security fence, possibly to collect intelligence for an attack. A drone dropped stun grenades and leaflets ordering the suspects to stay away from the area.
The leaflets warned the shepherds that they were putting their life at risk. The Arabic message urged them to end their cooperation with Hezbollah and Iran.
In addition, the army held unspecified training sessions in the northern Golan. Officials didn't provide any details, but local residents reported explosions in the area.
A week before, IDF forces blew up two Syrian army positions near the Golan border. The posts, set up in breach of ceasefire agreements, were apparently used to collect intelligence. The rare cross-border raid reflects the seriousness of IDF concerns about the situation.
Hezbollah's project in Syria
The latest incidents suggest that Hezbollah's Golan unit is intensifying its activities. This comes when all eyes are on the Lebanon border, where the IDF expects an imminent attack. A strike from Syria could boost the element of surprise, while allowing Hezbollah to avoid Israeli retaliation in Lebanon.
The secretive "Golan File" unit aims to set up terror cells for attacks on Israeli targets. Earlier this year, the IDF spotted civilians near the border collecting intelligence and reporting to Syrian soldiers and Hezbollah agents.
Syria also runs an intelligence gathering unit on the Golan in cooperation with Iran, intelligence blog IntelliTimes says. The unit's headquarters is located in Damascus and its agents aim to collect information about IDF positions and patrols, the report said.
Previously, the IDF released footage of a Syrian general visiting Hezbollah positions in southern Syria.
Israel apparently disrupted Hezbollah's plans after killing a senior operative in a pinpoint strike in February. Since then, there has been little mention of Hezbollah activity in the area, but efforts likely persisted behind the scenes.
Notably, IDF forces killed four suspects as they tried to plant explosives at the Israel-Syria border in August. However, defense officials later estimated that the cell was not part of Hezbollah.