Large police forces hold drill simulating terror cell infiltration from Gaza; IDF prepares for rocket attacks on central Israel.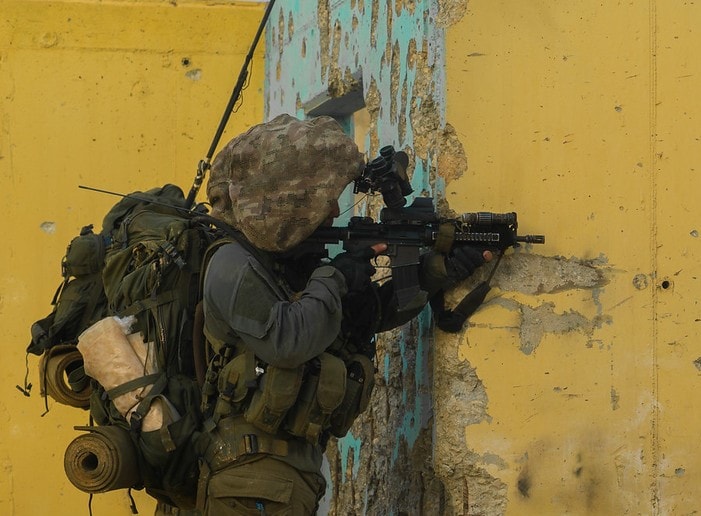 Israeli forces in the Gaza region are on alert for terror attacks from the Strip, including a potential raid on border communities. Security officials believe that Islamic Jihad is planning to strike this week to mark the assassination of a senior commander a year ago.
The IDF is also preparing for the possibility of rocket attacks on central Israel towns, N12 news reported. Earlier, the army deployed additional Iron Dome batteries at undisclosed locations.
On Tuesday, police units held a large-scale drill to simulate an infiltration by a Gaza terror squad. As part of the exercise, armed police officers set up roadblocks across the region.
The forces are prepared for scenarios that include an attack via terror tunnels, a senior police officer said. Last month, the IDF detected a tunnel that extended into Israeli territory.
Tuesday's drill ended after special police teams spotted and arrested the terror cell in a vehicle near an Israeli community.
IDF expects West Bank riots
In recent weeks, there was an increase in attempted infiltration attempts from Gaza, including by armed suspects. This rise may be part of an effort to collect intelligence ahead of a terror attack. Two weeks ago, IDF troops detained a Palestinian carrying an explosive device.
A field commander told N12 that Hamas remains the greatest threat in the region. He added that the Gaza security fence can delay terrorists crossing into Israel but will not stop them. "Ultimately, they need to be stopped by skilled forces mobilized to the right spot at the right time," he said.
Meanwhile, tensions are also high in the West Bank, where the Palestinians will hold a mass funeral for Saeb Erekat in Jericho on Wednesday. The IDF expects thousands to attend the event and is preparing for violent riots, military correspondent Amir Bohbot reported.
Erekat, who for many years served as the chief Palestinian negotiator, died in an Israeli hospital Tuesday from COVID-19 complications.