New underground sensors enable IDF to uncover Gaza terror tunnel extending into Israel; Palestinians fire rocket in response.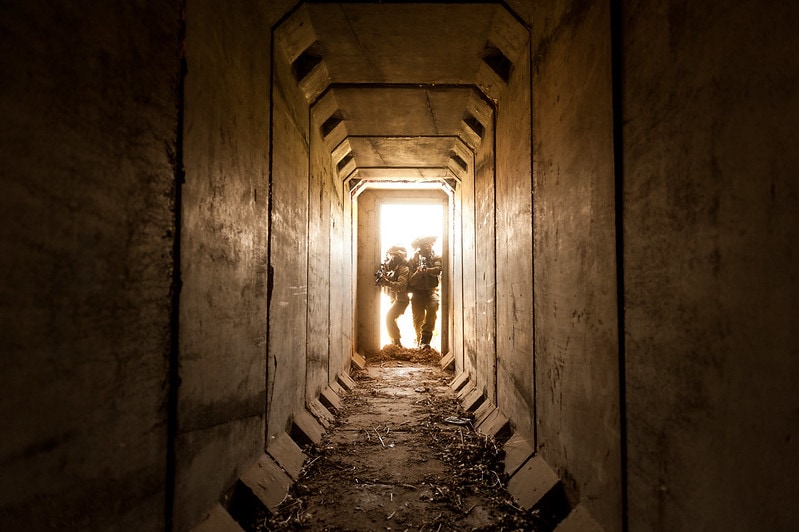 Cleared for publication: The IDF uncovered a Gaza terror tunnel extending into Israeli territory. The army discovered the tunnel via underground sensors installed as part of Israel's new border barrier.
In anticipation of a Palestinian response, the IDF declared high alert for revenge attacks. As expected, shortly before 9 PM local time air raid sirens were activated in southern Israel communities. The army said that Iron Dome intercepted one rocket fired from Gaza.
Subsequently, the IDF bombed an underground terror target in the Strip, but avoided any further retaliation.
Israel holds Hamas responsible
IDF forces sealed off roads leading to the tunnel on Monday morning, after sensors detected suspicious underground findings. The army initially said that it was carrying out engineering works near the border. The full story was under a gag order, which was lifted Tuesday evening.
Defense officials did not initially discover which terror group dug the tunnel but are holding Hamas responsible. The tunnel could be a joint Hamas-Islamic Jihad venture, military analyst Ron Ben-Yishai said.
Forces at the border were on alert for a potential escalation in case of significant Palestinian retaliation, Channel 13 reported.
Tensions in the area have been high for weeks, and the latest developments increase the risk of a military conflict. The IDF recently refreshed its plans for a clash in the region and presented them for approval by the chief of staff.