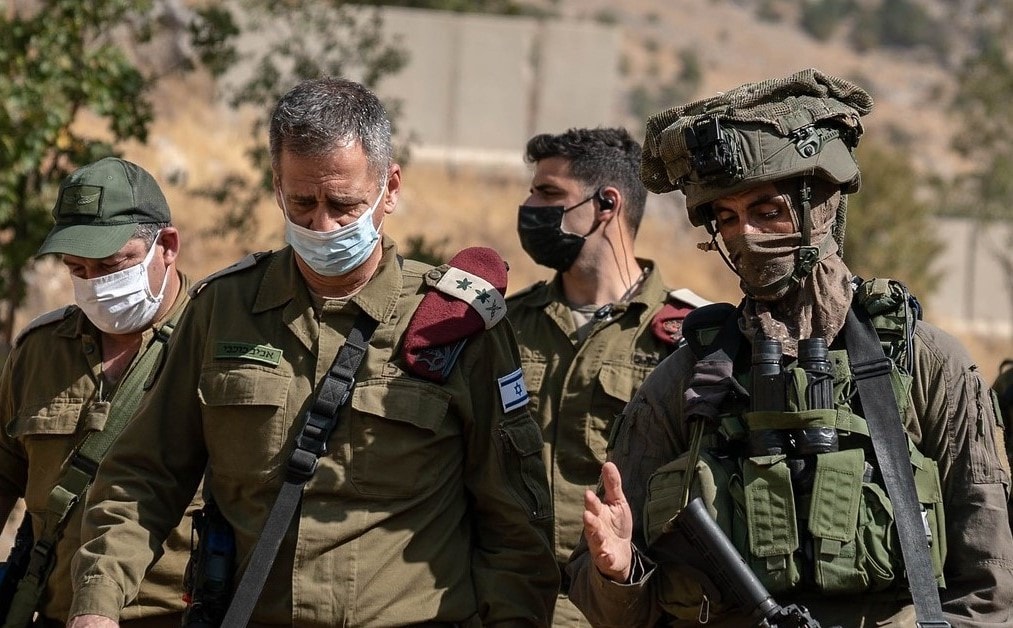 Gaza terrorists fired dozens of rockets at southern Israel communities overnight. Iron Dome intercepted several rockets and the others exploded in open areas, causing no injuries, the IDF said. The army responded by bombing Hamas targets in Gaza.
Later, IDF Chief Aviv Kochavi postponed his trip to the US to discuss the Iran threat as Israel braces for a potential flareup in Gaza. The army chief convened a meeting with senior officers and ordered a series of steps to prepare for further strikes in Gaza and possible escalation, the IDF said in a statement.
The army added that Kochavi decided to delay his US visit in light of the "expected developments." Meanwhile, terror groups in Gaza said that they fired at Israel in response to violent Arab-Jewish clashes in Jerusalem in recent days. The factions warned that they are set to intensify their attacks.
36 rockets fired at Israel
At least 36 rockets were launched from Gaza in several barrages late Friday and early Saturday, targeting multiple southern Israel communities. Local residents rushed to bomb shelters as red alert sirens were activated throughout the night.
IDF fighter jets bombed Hamas targets in Gaza in response to the strikes, including underground tunnels and rocket launchers. Senior political and military officials convened several sessions on Saturday to review the next steps and additional retaliation options.
The army briefly imposed safety limitations in communities near Gaza, halting farming work and banning large gatherings. The restrictions were lifted Saturday morning, signaling that defense officials were not expecting further escalation at that point.
Hamas vs. Israel
The heavy barrages were launched by Hamas, according to Palestinian affairs journalist Gal Berger. Other sources said that Islamic Jihad terrorists also fired some rockets. Earlier, various factions in Gaza threatened to take action against Israel over ongoing violence in Jerusalem.
However, the attacks were also meant to signal that Hamas is dissatisfied with apparent plans to cancel the upcoming Palestinian election. The IDF is elevating its readiness in the West Bank as well in case of a surge in terror over the election crisis.
Defense officials previously warned that the IDF will hit Hamas and other Gaza terror groups hard in case of a military clash. However, Israel has so far tried to contain any violence, while boosting the army's readiness for war on the southern front.
Overall, the Israeli-Palestinian conflict is heating up, with growing potential for a violent outbreak on several fronts. Jerusalem remains particularly volatile, with street clashes intensifying in recent days.