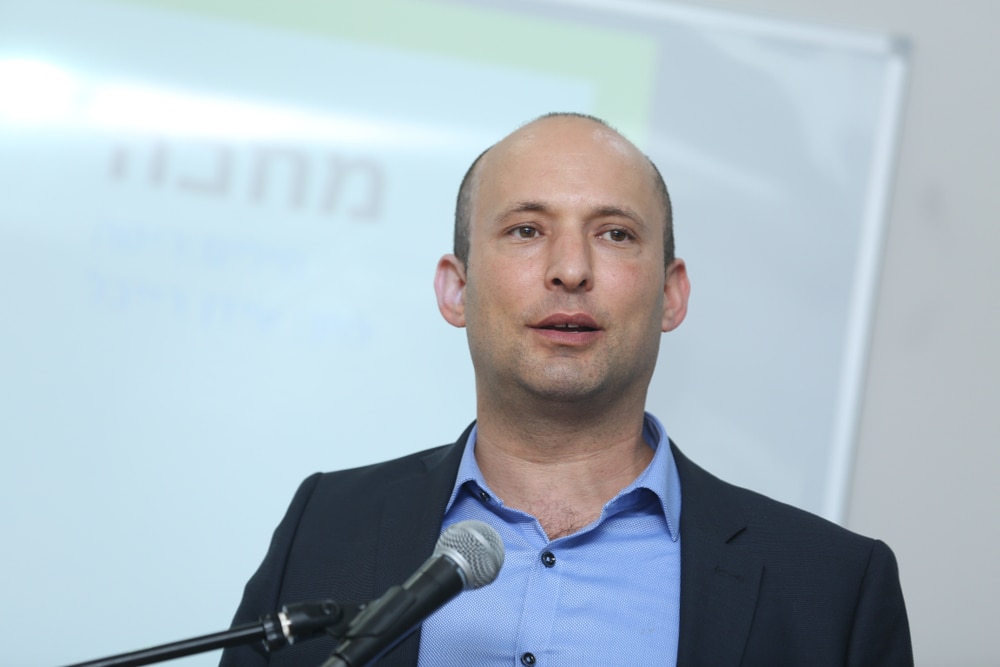 Friday's merger between Benjamin Netanyahu's Likud and Naftali Bennett's New Right carries minor significance in the short run. However, the Bennett-Likud union could have a dramatic effect on Israel's political system later on.
Bennett's appointment to the post of defense minister ensures that he will not be joining a government led by Benny Gantz. But the prospects of forming such government were slim to begin with.
Netanyahu can be satisfied that he further minimized any chance for a Gantz-led minority government. However, the move does not bring the prime minister any closer to forming a coalition himself.
As to the Defense Ministry, Bennett will soon discover that his ability to call the shots in a transition government is limited. Netanyahu will continue to formulate Israel's defense policies on his own, in close coordination with the IDF.
Will Bennett-Likud Merger Last?
And so, the decision to merge Likud and New Right will make little difference in the immediate term. Moreover, Bennett has already agreed to step down as defense minister should Netanyahu and Gantz somehow manage to form a national unity government. The big question is what happens if they fail.
The Bennett-Netanyahu deal only applies to the current Knesset. However, if Israel heads to another election, extending the merger could dramatically impact the political establishment.
Notably, both Netanyahu and Bennett stand to gain from a permanent union. Teaming up with Bennett and Ayelet Shaked could guarantee that Likud comes on top in a third round of elections.
While this will not assure a Netanyahu-led government, it will put the prime minister in a stronger position. For Bennett, joining Likud offers more promising career prospects than remaining in his small fringe party.
If they agree on a joint run, a Bennett-Netanyahu ticket would significantly boost the likelihood of other dramatic scenarios. Three of them are presented below:
Likud Rebellion
The voice of Likud's senior ministers was notably absent from the initial reaction to the merger. One can assume that the party's leaders, who eagerly await Netanyahu's departure so they can take his place, were not happy with the news.
Netanyahu's decision to appoint an outsider to the most senior ministerial post is sure to upset Likud's top brass. But having to face Bennett as a prominent candidate in future leadership primaries would be even more troubling. Indeed, the energetic Bennett could prove to be a menace for less charismatic opponents.
High-ranking party members are already unhappy with the prime minister's conduct. Trying to shove Bennett down their throats could prove to be the last straw and push Netanyahu's opponents to publicly air their grievances. This kind of rebellion could carry devastating consequences for Israel's ruling party.
Mega Blocs
The prospect of a larger Likud could prompt Gantz's Blue and White party to seek its own mergers. The ideal partner would be Labor, which fared poorly in the last elections. The two parties share many similar views, and potential voters, thus making a joint ticket a good bargain.
Such mergers could encourage further unions on the right. Ultimately, Israel could see the emergence of two giant blocs that eat up most smaller parties. Notably, Netanyahu has wanted to forge an Israeli "Republican Party" for a while now. If he has his way, Israel's political system will more closely resemble America's two-party system, at least for a short while.
Secular Bloc
A stronger Likud could also have the opposite effect, namely encouraging Blue and White to break up. The perception of diminishing prospects of victory could finally push Yair Lapid to end his uneasy partnership with Gantz and seek new allies.
A promising option for Lapid would be to form a "Secular Union" with Avigdor Lieberman, who has done well by branding himself as the champion of secular Israel. Such party would appeal to many frustrated Israelis, especially as both Netanyahu and Gantz will likely capitulate to ultra-Orthodox demands.
A large secular bloc would hold significant political clout and potentially be the kingmaker in any coalition. And if Lieberman and Lapid head to the opposition, they could return even stronger in the following elections.
Whatever scenario materializes, Israeli politics will not be the same. Now it remains to be seen whether the Bennett-Likud merger is a short-term deal or the foundation of a powerful future alliance.