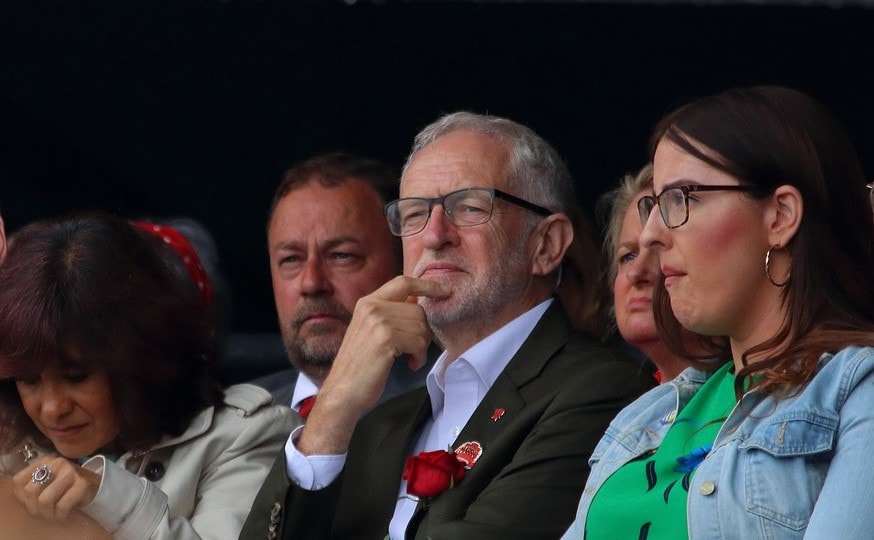 Israeli President Reuven Rivlin is taking a firm stand against growing Antisemitism in Britain. Rivlin visited the UK and praised its chief rabbi for speaking out against rampant anti-Jewish feelings in Britain's Labour Party.
Rabbi Ephraim Mirvis blasted Labour leader Jeremy Corbyn this week for promoting a toxic atmosphere of Antisemitism in the party. "A new poison — sanctioned from the top — has taken root in the Labour Party," Mirvis wrote in an article for The Times newspaper.
Jews in Britain are "gripped by anxiety" and the country's soul is now "at stake," the rabbi wrote. He condemned Labour for its "utterly inadequate" response to anti-Jewish racism, and warned that Corbyn is unfit to be a prime minister.
President Rivlin met Rabbi Mirvis on Wednesday and offered a message of support.
The chief rabbi is making "inspiring efforts to counter the Antisemitism and racism that is raising its head," Rivlin said. "His clear voice and leadership, which are more prominent than ever these days, are filling all of us with pride."
Security Cooperation at Risk?
Most British Jews are terrified by the prospect of a Corbyn victory in the upcoming general election in December. One poll has suggested that many would consider leaving Britain if Labour wins.
An Israeli living in London spoke to Channel 12 on Wednesday about the grim feelings in Britain's Jewish community.
"Corbyn is known first of all as anti-Israeli and then as anti-Jewish," Avital Kariv-Aloni said. "England is a safe place for Jews, but there is no telling what will happen if he wins the election."
Meanwhile, British daily The Telegraph reported that Israel may halt its intelligence cooperation with Britain if Corbyn comes to power. Prime Minister Benjamin Netanyahu implied this during his trip to the UK in September, the newspaper said.
Asked by The Telegraph whether security cooperation will continue if Corbyn adopts anti-Israel policies, Netanyahu responded: "What do you think?" The prime minister did not elaborate.
Israeli Journalist Defends Corbyn
However, not everyone in Israel is concerned about the prospects of a Corbyn victory. An op-ed in daily newspaper Haaretz argued that Corbyn is the victim of a smear campaign and is not Antisemitic.
"The Jewish establishment in Britain and the Israeli propaganda machine have taken out a contract" on Corbyn, senior columnist Gideon Levi wrote on Thursday.
While conceding that British Jews feel genuine anxiety, Levi accused them of exaggerating the danger posed by the Labour leader. "Corbyn is not an anti-Semite. He never was," Levi wrote, adding that Corbyn's "real sin" was his staunch anti-Israel stance.
"The Jews and Israel's true friends should hope that Corbyn is elected," Levi concluded. "He is a statesman who can change international discourse about the occupation and the struggle against it."