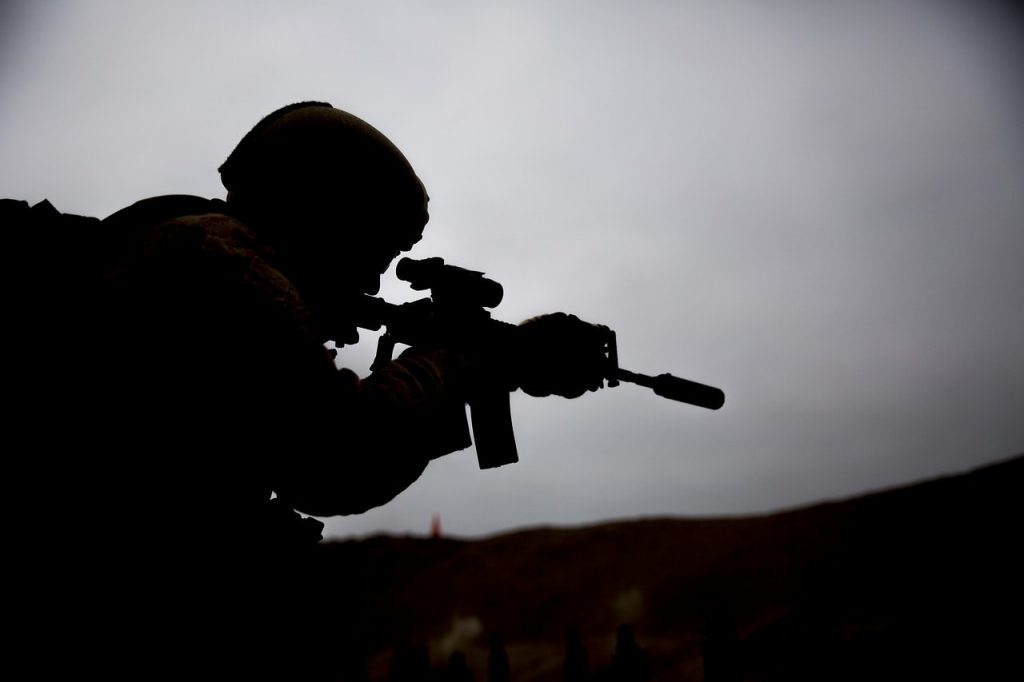 Events on the Israeli-Palestinian front are nearing a boiling point, most dangerously in Jerusalem and the Gaza Strip. The security forces are boosting their deployment and intelligence efforts to identify and neutralize hotspots of violence and terror plots.
On Saturday, the IDF sent more forces to the West Bank and the Gaza border. Chief of Staff Aviv Kochavi ordered reinforcements of troops and military gear to prepare for a potential flareup, the army said.
The IDF chief also ordered bolstered intelligence steps for fear that terrorist groups will carry out surprise attacks against Israel. Earlier, Defense Minister Benny Gantz held an assessment session with Israel's defense chiefs to evaluate the explosive security situation.
High tension in Jerusalem
In parallel, the Israel police is significantly boosting its presence at flashpoints of violence, particularly in Jerusalem. Police forces are performing extensive security checks at the entrance to the Old City and are screening buses with Muslim worshipers traveling to Temple Mount for end of Ramadan prayers.
Earlier, Police Chief Koby Shabtai ordered a wider deployment nationwide for fear of terror attacks, after the Border Police thwarted a major assault Friday.
Three gunmen armed with submachine guns and knives were intercepted Friday morning en route to carrying out a large-scale attack, possibly in Jerusalem. The bus they were traveling on was stopped, and two terrorists were killed by the security forces after trying to raid a Border Police base.   
In Jerusalem, Muslims on Temple Mount clashed with police Friday night, throwing bottles and rocks at officers and targeting them with fireworks. Large forces stormed the site while firing rubber bullets, stun grenades and tear gas to contain the violent crowds. Over 200 Palestinians and nearly 20 police officers were wounded.
Military affairs analyst Ron Ben-Yishai praised the police for ending the riots with limited force and minimizing injuries. This prevented the violence from spiraling out of control without resorting to live fire, which would cause multiple fatalities and an all-out eruption at the holy site.  
Dangerous standoff in Gaza
Meanwhile in Gaza, terror leaders are threatening to take action against Israel over events in Jerusalem. Hamas leader Ismail Haniyeh warned that Israelis will "pay a price" for the clashes in the capital. Terror groups have already started to launch arson balloons into southern Israel and are planning large border protests Saturday night.

The IDF Southern Command is deploying in force along the Gaza frontier in case of widespread violence. The troops are also preparing for attempts to sabotage the border fence and cross into Israeli territory to carry out attacks. A tense night is expected at Israeli communities in the Gaza region.

For now, Gaza terrorists are escalating their rhetoric but limiting their actions, partly for fear that rocket strikes will provoke a harsh IDF response. The army has finalized its plans for a large operation to neutralize Gaza's terror hubs and will likely launch significant strikes in case of a flareup, while trying to prevent an all-out war.
Overall, the next few days will determine whether calm is gradually restored. If the violence and attacks intensify, Israel and the Palestinians will quickly slide into a broader armed conflict, in Gaza and elsewhere.