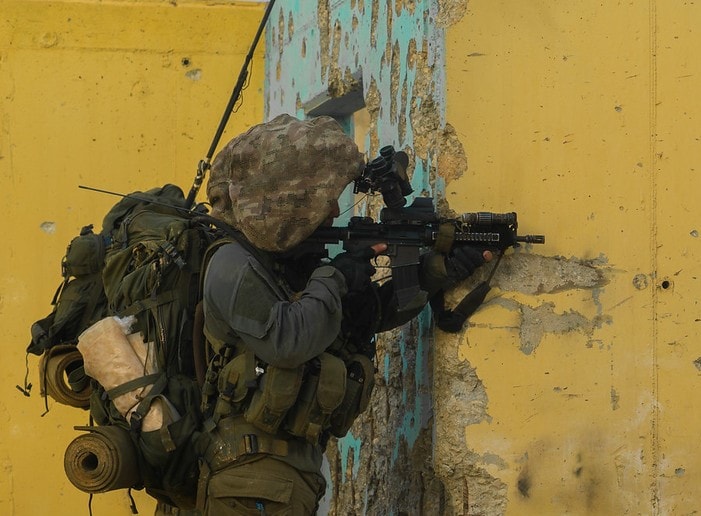 Israel expects Palestinian terror to intensify in the coming days and weeks following a shooting attack on three youngsters Sunday. The IDF is reinforcing its troops in the West Bank while also keeping a close watch on terrorist groups in Gaza.
The army launched a manhunt after a drive-by shooting at the West Bank's Tapuach junction. Two yeshiva students were seriously wounded in the attack and are fighting for their lives, while a third victim suffered minor injuries.
Defense officials estimate that Hamas will intensify its anti-Israel incitement and terror in May, which includes several sensitive dates with religious and political significance. Of special concern is Jerusalem Day on May 9-10.
Hamas is expected to call for riots in the capital with a focus on Temple Mount, and possibly fuel tensions with further terror attacks across the West Bank. The IDF is not ruling out the possibility of rocket fire from Gaza as well.
On Monday, the army deployed an extra battalion in the West Bank and elite forces at unspecified locations, The Jerusalem Post reported. Security officials fear that Sunday's attack will inspire similar Palestinian assaults, and also revenge attacks by Jews, N12 News said.
New era in West Bank?
The drive-by shooting marks the dawn of a new era, as the rule of Palestinian Authority leader Mahmoud Abbas nears its end, military analyst Alex Fishman says. Israel should prepare for an "earthquake" as armed factions battle for power and the PA starts to disintegrate, he wrote in Yediot Aharonot daily.
Violence has been on the rise for weeks as the Palestinians increasingly feel that the PA grows weaker, Fishman said, pointing to recent firebombing incidents and rocket barrages from Gaza. Palestinian security forces have not been arresting Hamas operatives for months in the run-up to the now cancelled PA elections, he noted.
The postponement of the vote is sparking an internal power struggle that could lead to Palestinian chaos and an armed conflict with Israel, Fishman wrote. The IDF and Shin Bet security service have been preparing for this day for years, and should now activate their contingency plans, he wrote.
In parallel, the IDF is getting ready to launch the "war month" exercise to test its battle plans for a major conflict. Army chief Aviv Kochavi will assess the situation on the Palestinian front ahead of the drill to decide if more reinforcements are needed, Walla! News reported.