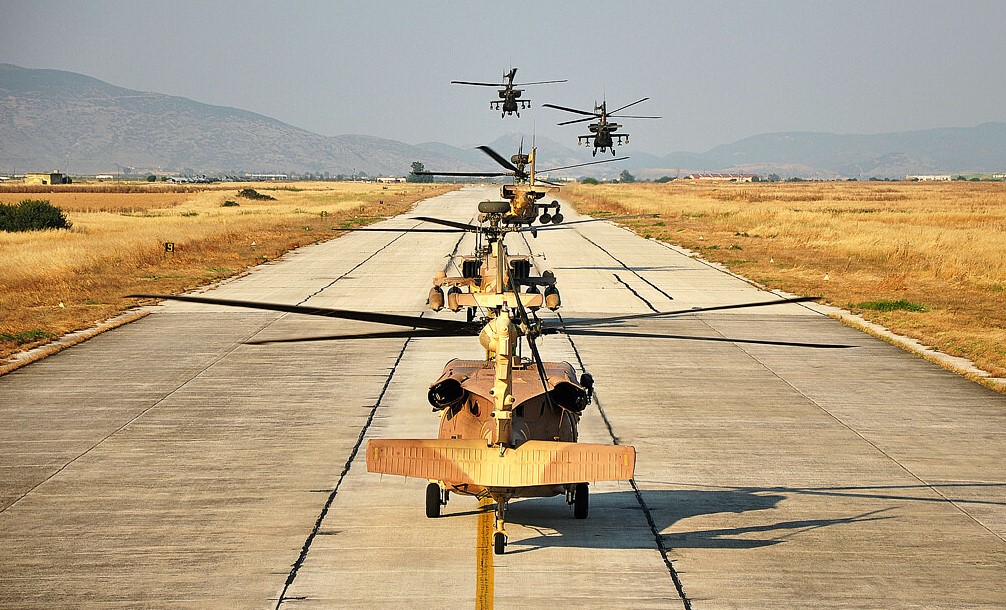 The IDF's 190th Squadron of Apache helicopters held several combat drills recently to train for missions in Gaza and Lebanon. As part of the sessions, the gunships simulated three battle scenarios on the southern and northern fronts, the Air Force said.
The squadron, which is stationed at the Ramon Airbase in southern Israel, first practiced an assault in enemy territory. The helicopters simulated attacks on several targets and a low-altitude flight.
Next, the Apaches collaborated with infantry forces in simulating combat in the Gaza Strip after the eruption of a major conflict. Notably, the IDF recently released more details about its new war plans against Hamas.
In the third session, the squadron cooperated with artillery forces in training for warfare on the northern front. As part of this scenario, the helicopters were tasked with shooting down an unmanned aircraft flying into Israeli territory. Later they were assigned targets for a strike in a civilian community.
Helicopters strike in Syria
The IDF expects Hezbollah attempts to attack inside Israel in the next war and is preparing different responses for the various threats. In April, the army simulated an airborne mission to counter a terrorist infiltration via the northern border.
Israel's attack helicopters continue to play a prominent role in the ongoing campaign against hostile force in Syria. Last night, IDF gunships reportedly bombed Hezbollah outposts on the Syrian side of the Golan Heights. No information was provided on the exact targets and the developments that prompted the strike.
At the end of the last year, the IDF revealed that the 190th Apache squadron regularly operates in the Syrian theater. The helicopters reportedly carried out numerous missions, including covert precision strikes that were not widely publicized.