International media not interested in Nazi symbols, Holocaust denial and repulsive hatred of Israel that originate in the Gaza Strip.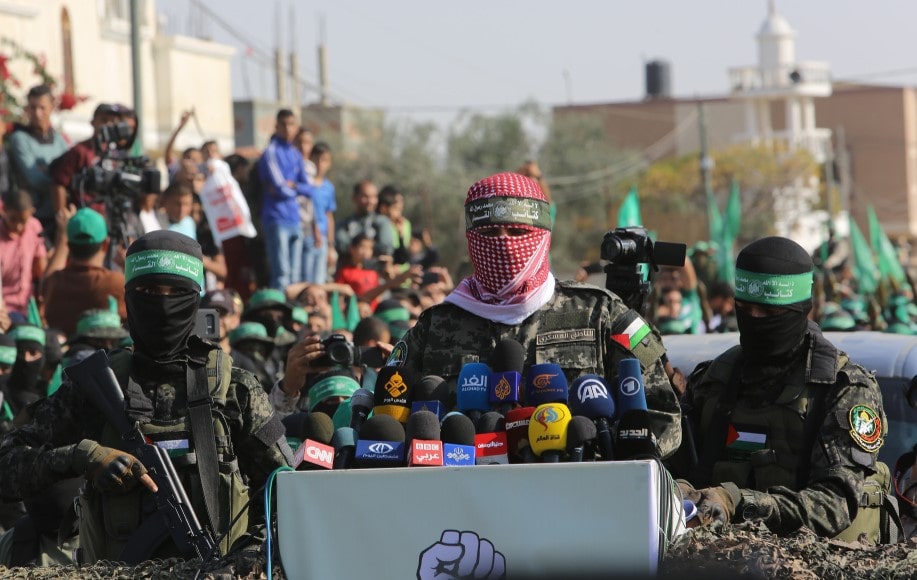 Hamas leader in Gaza Yahya Sinwar made a chilling remark earlier this month. He threatened that if Gaza is hit hard by the Coronavirus, Hamas will ensure that six million Israelis cannot breathe either.
Sinwar's message was a deliberately crude reference to the six million Holocaust victims. But his repulsive words elicited little global attention.
Notably, the Hamas leader has a track record of grisly threats that largely go unnoticed. On another occasion, he told Israelis that the Palestinians will be eating their livers.
Sinwar's recent comment was the latest example of Holocaust-inspired and Nazi-style hate speech in Gaza. In 2019, Hamas official Marwan Abu Ras said in a TV interview that Hitler hated the Jews because of their "crimes," and that the Holocaust is a lie.
Swastikas From Gaza
In 2018, Palestinians sent kites bearing swastikas into Israel during a Hamas-organized protest on the Gaza border. A similar Gaza rally in 2019 featured a Palestinian flag with a swastika.
Researcher Sean Durns wrote that most leading media outlets do not report such incidents. Notably, Israel disseminated some photos, and many foreign journalists covered the events on the Gaza border. Still, almost no one thought that Nazi-style anti-Israel hate was of interest.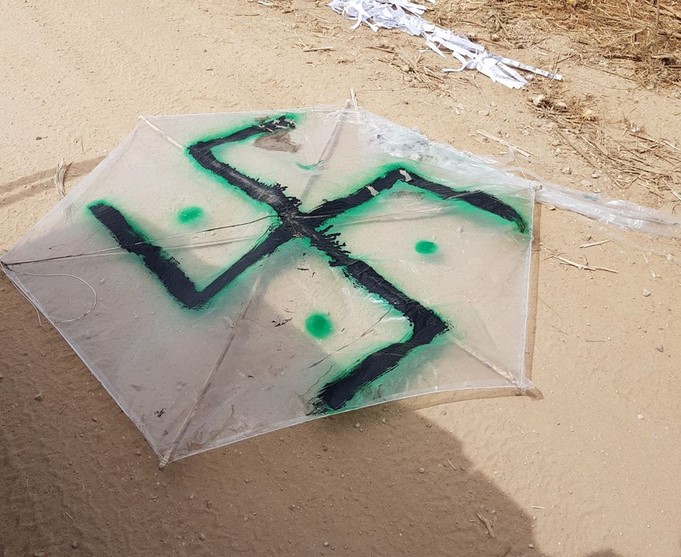 Ironically, Hamas appeared more concerned by the potential embarrassment than the journalists. A spokesman objected to the display of swastikas and urged protesters to only use Palestinian flags. He said that such imagery hurts the Palestinian struggle for freedom against the "colonial occupier of Palestine."
However, there was no indication that Hamas took any action against those responsible. A few weeks later, a group of Gazans at another protest carried a sign with a swastika and a photo of Adolf Hitler.
Similarly, when senior Hamas official Fathi Hamad called on the Palestinians to "attack every Jew on planet earth and slaughter and kill them," Hamas rejected the comments (after a translation emerged). Yet regardless of the group's "official position," its members and supporters repeatedly use Nazi language and symbols.
Deceptive Hamas Strategy
Indeed, the Hamas responses reveal its true concern — avoiding PR damage — and highlight its deceptive strategy. The group aims to brand its violence and hatred in a way that appeals to Western ears. Hence, Hamas uses lofty human rights terminology to engage with outsiders, while promoting darker messages at home.
One way or another, most major news outlets seem to care little about Nazi-style rhetoric when it comes from Gaza. The same language and images that would cause a stir in the West, and that are illegal in some countries, barely merit a mention when voiced by Hamas and its fans.
There are various explanations for this, but one has a long history. Namely, in some left-wing circles, support for anti-colonial forces — real or perceived — has trumped anything else for decades. Hence, virtually anything Hamas and the people of Gaza do makes no difference.
Back in 1958, British political writer Harry Hanson made this view unusually explicit. Writing in support of the Arab national movement, he conceded that in some ways it resembled Nazism and Fascism. Still, he concluded, Arab nationalism was progressive and should be endorsed. More than 60 years later, this worldview appears to be alive and well.