Israel allegedly bombs targets linked to Iranian arms shipments; Air Force drill simulating northern war launched a week before schedule.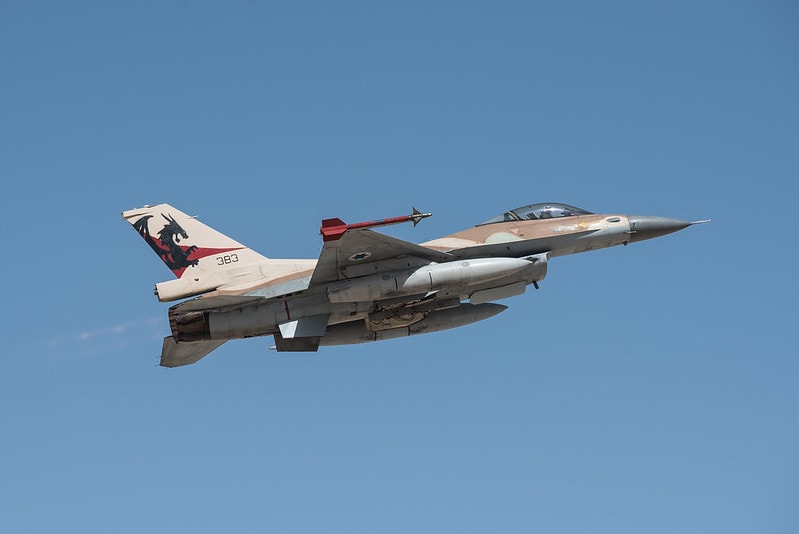 Israeli fighter jets attacked several sites near Damascus Sunday night, Syrian state media reported. The strike apparently targeted Iranian arms shipments to Tehran's proxies in the country.
Israel bombed depots storing missiles and other weapons from Iran, the Syrian Observatory for Human Rights (SOHR) reported. The group claimed that six foreign militia fighters were killed in the attack, but there was no confirmation of this from other sources.
Syrian military positions where pro-Iranian militias are deployed were also hit, SOHR said. The strike was relatively extensive and reportedly targeted sites west and south of the Syrian capital.
The IDF had no comment, but previously warned that Iran was increasing its arms smuggling efforts in recent weeks. Jets flying above northern Israel and the Golan Heights fired missiles at their targets during the 30-minute strike, Syrian sources said.
The late-night bombing was at least the third in the past two weeks. Earlier strikes targeted sites in southern and eastern Syria.
Sunday morning, it was reported that Iran was hiding weapons in UN containers at the Damascus International Airport. The Iranians set up a dummy terminal nearby where they were storing missiles and missile parts, Israel Hayom said, citing Syrian sources.
Air Force war drill
In parallel, the Israel Air Force launched a large war exercise simulating combat in the northern theater. The drill was scheduled for next week but Air Force Chief Amikam Norkin decided to launch it immediately, military journalist Yossi Yehoshua reported.
No reason was given for the sudden change of plans, and it was unclear whether the move was related to last night's strike.
The exercise will encompass the entire Air Force and focus on defensive and strike missions, as well as intelligence collection, Ynet reported. The drill will test planning and command procedures as well as logistic and technological capabilities, the report said.
The exercise is scheduled to end Wednesday. In the coming days, Israelis should expect intensive fighter jet and helicopter activity and the sounds of explosions, the IDF said.
Last week, the Air Force held an exercise simulating rescue operations of pilots downed in enemy territory. For the first time, the drill featured cooperation between the elite 669 search and rescue unit and UAVs providing real-time intelligence.