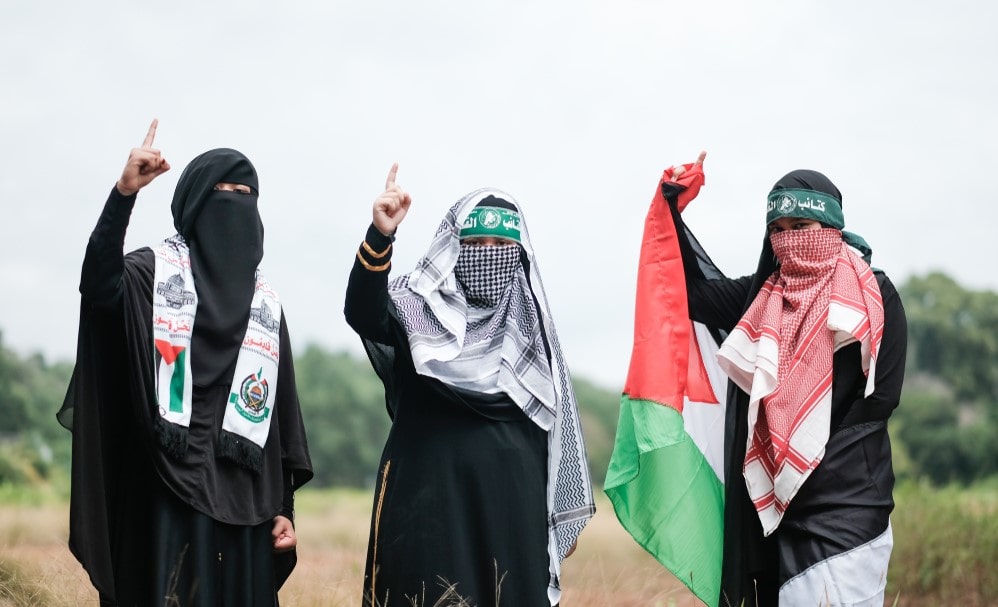 Birzeit University near Ramallah is considered to be one of the best Palestinian schools. However, its academic reputation hides a darker side of radical anti-Israel sentiments and support for terror.
The university, which was established in 1972, prides itself on being a "vibrant community of scholarship and learning." But extracurricular activities on campus include a strong presence of student cells affiliated with terror groups.
This week, students at the university marked the 52ND anniversary of the Popular Front for the Liberation of Palestine. Masked supporters marched at the school holding photos of prominent terrorists, weekly paper Makor Rishon reported. Some students at the rally also gave the Nazi salute, the report said.
Notably, university security guards attempted to block the rally on the orders of the Palestinian Authority. Moreover, the school's administration said that it would take steps to prevent such events, Makor Rishon said.
Military Uniforms on Campus
However, school administrators have shown more openness to the activities of another terror group, Hamas.
The Hamas student cell, Al-Kutla al-Islamiya, maintains a strong presence at the university. The group won the student council elections for five years running and is openly active on campus, news website Walla! reported.
Despite the radical nature of the student group's activities, the university allows it to operate freely. Israeli forces arrested some 25 students from the school last year on a range of terror-related offenses, the report said. A few students played a direct role in terror activities.
Moreover, school administrators allow group members to hold large rallies dressed in Hamas military uniforms and carrying imitation weapons, the report said. The student group also holds plays simulating the abduction of Israeli soldiers, and is active in anti-Israel incitement.
Infamous Graduate
Israeli and Palestinian security agencies both monitor Birzeit University closely for radical activity. The Palestinian Authority is concerned about Hamas efforts to destabilize its rule, while Israeli agents try to identify potential terrorists before they carry out attacks.
The university's most infamous graduate is Hamas chief bomb maker Yahya Ayyash, who studied electrical engineering at Birzeit. Ayyash was behind some of the worst suicide attacks on Israeli civilians in the 1990s.
In 1996, Israel's security forces assassinated Ayyash in Gaza by planting explosives in his cell phone.