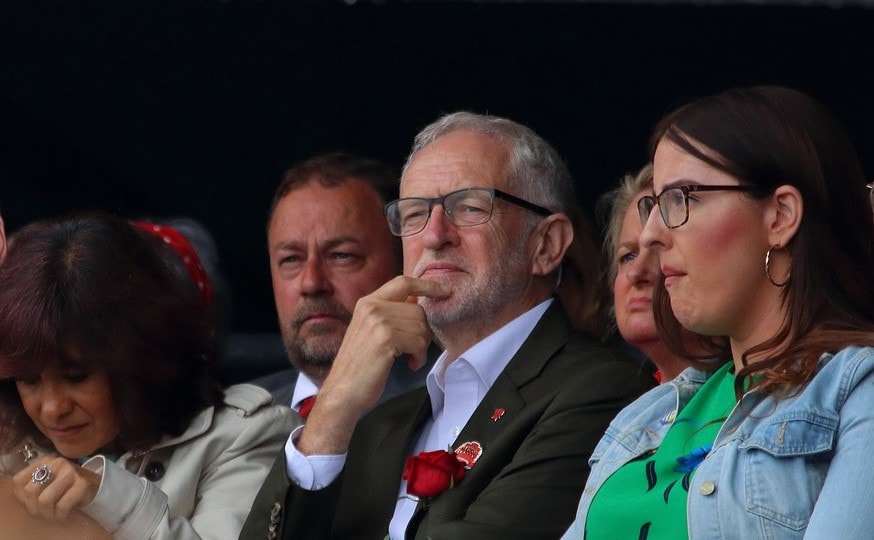 Knesset Member Yair Lapid lashed out at UK Labour Party leader Jeremy Corbyn Monday, charging that he is clearly Antisemitic. Earlier, a leading Jewish group designated Corbyn as the world's worst Antisemite, citing his damaging influence on Britain's political system.
"Usually, you're not supposed to interfere with the election in other countries, but in this case I'm going to make an exception," Lapid told a group of international politicians visiting Israel. "Jeremy Corbyn is an Antisemite."
"This is old-school, plain Antisemitism, just using new excuses," Lapid said, calling the Labour Party leader a "racist." He urged British voters to take this into consideration when they head to the polls on December 12.
Growing Interest in Israel
Corbyn's views and the threat he presents to Britain's Jewish community are attracting more attention in Israel ahead of the UK elections. Several media outlets published reports about the situation and highlighted the growing concerns over a potential Labour victory.
Weekly newspaper Makor Rishon recently ran a feature by journalist Zvika Klein on the crisis among British Jews.
One Jewish activist told Klein that growing Antisemitism is a topic of conversation at every Shabbat meal. Many Jews are talking about the option of emigration, he said. Another local resident said that if her children could leave, she would encourage them to do so.
A recent poll among Britain's Jews found that 47 percent would consider leaving the country if Corbyn wins the election.
Labour 'No Longer a Safe Space' for Jews
Meanwhile, the Simon Wiesenthal Center placed Corbyn at the top of its 2019 list of the worst Antisemitic incidents, Britain's Daily Mail reported. "No one has done more to mainstream Antisemitism into the political and social life of a democracy than the Jeremy Corbyn-led Labour Party," the Jewish group warned.
Many observers blame Corbyn for turning one of Britain's largest parties into a hub of Jew-hatred and virulent anti-Israel activism. A report leaked last week further reinforced charges that crude Antisemitism has been normalized during Corbyn's term as Labour leader.
The damning document, authored by the Jewish Labour Movement, detailed numerous cases of Antisemitic behavior documented by party members. The authors conclude that the Labour Party is "no longer a safe space for Jewish people or for those who stand up against Antisemitism."
'Culture of Antisemitism'
Sara Gibbs, a longtime Labour supporter, published a gut-wrenching piece illustrating the personal toll the crisis has taken on Jewish party members in the Corbyn era.
"Knowing what I know about Labour and Antisemitism and seeing it so callously disregarded by people I hugely respect has been one of the most tiring and demoralising things I've ever been through," Gibbs said.
"I have developed chronic, stress-related illnesses. I have lost weeks in bed," she wrote. "I have lost close friends, who believe the Labour Antisemitism crisis to be 'all smears.'"
Gibbs has investigated many reports on anti-Jewish incidents in the party. Corbyn sympathizers have been promoting a "culture of Antisemitism and conspiracy theories about Jews and Jewish identity" for years, she said.
"I am Jewish, I am left-wing, and I have examined the evidence for myself and come to the conclusion that Labour, enabled by Corbyn, has become institutionally Antisemitic," she wrote.