Israel's multi-tiered defenses against cruise missile and drone attacks detect and shoot down all targets in unprecedented test.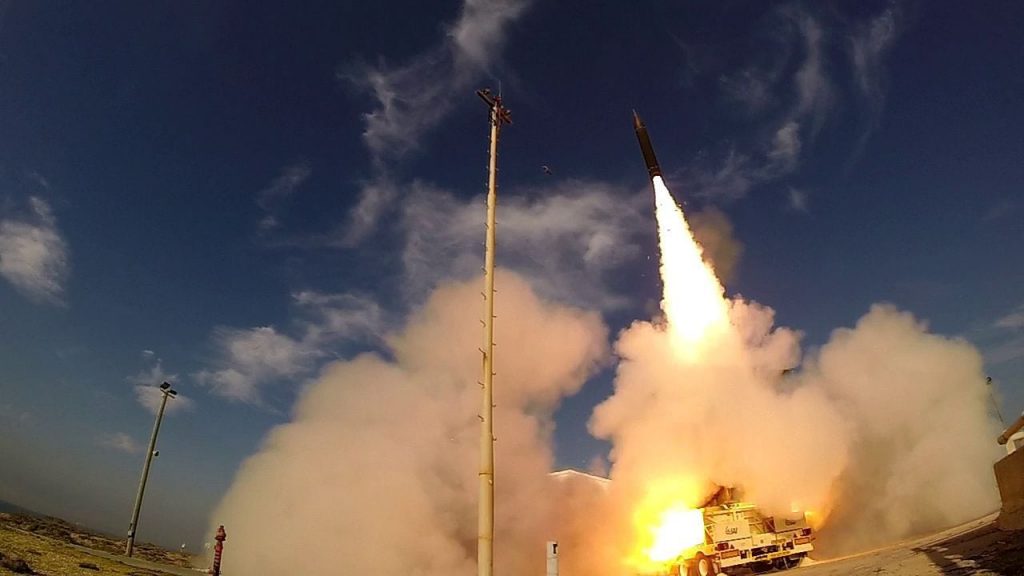 Israel tested the entire range of its air defenses in a large-scale exercise cleared for publication on Tuesday. The tests demonstrated the IDF's unique ability to intercept diverse threats by linking and activating several anti-missile systems, defense officials said.
The unprecedented experiment was carried out by the Air Force and Navy in cooperation with the US Missile Defense Agency.
During the tests, the Air Force simulated ballistic and cruise missile attacks on Israeli targets, as well as suicide drone strikes. The army deployed its interception systems on ships and was able to detect and shoot down all incoming threats, the Defense Ministry said.  
Iron Dome upgraded
The large experiment marked the first time in the world that multi-tiered anti-missile defenses were synchronized and activated, said IDF Air Defense Chief Ran Kochav.
The army used several systems in parallel to detect, assess and intercept targets, Walla! News reported.
Iron Dome, initially developed to intercept crude short-range rockets, shot down cruise missiles and drones for the first time, officials said. The system is expected to undergo further upgrades and will be installed on the Navy's newest battleship, the Sa'ar 6 corvette.   
Preparing for Iranian attack
A senior engineer told Walla! that Israel's defenses will be even more effective if the systems can be deployed in Gulf countries, thereby providing early warning of incoming threats. An IDF officer previously hinted that Israel could set up an advanced radar in the region.
The successful experiments suggest that the IDF will be able to counter an Iranian strike similar to the bombing of Saudi oil facilities in 2019. Israel also expects to face massive rocket and missile barrages in a future war against Iran or its proxies.
A retired IDF general has warned that the Tehran is laying a trap for Israel and could devastate the country in a missile assault. However, former IDF intelligence chief Amos Yadlin says that the threat has been exaggerated, and that Israel's enemies have limited missile power.