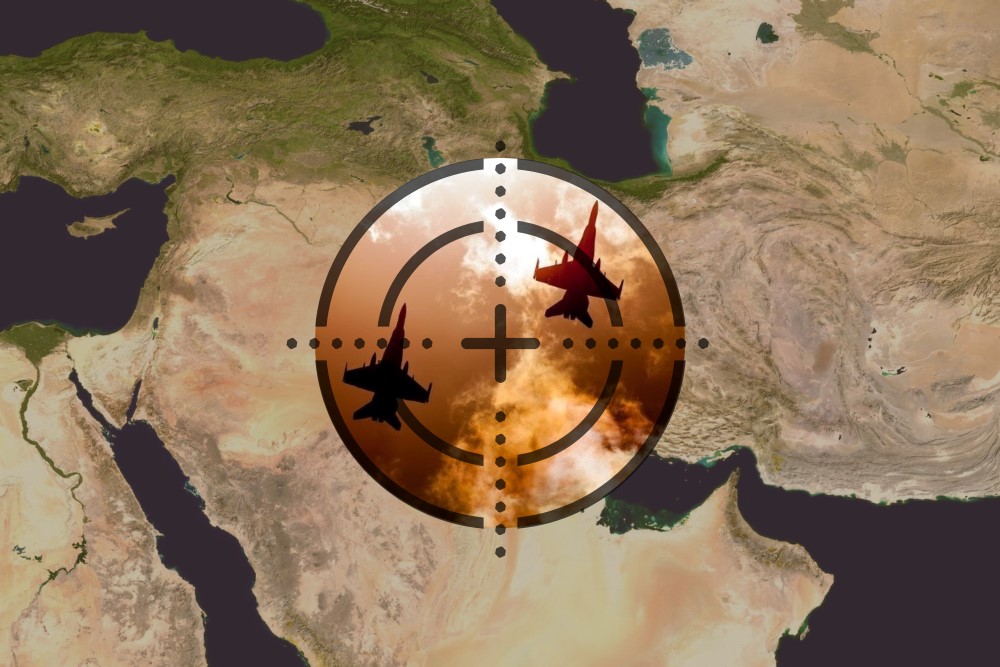 A prominent defense expert is warning that an Israel-Iran war that sparks a regional conflict could pose an existential threat. As Israelis cope with a worsening political crisis at home, the risk of a broad conflict on multiple fronts is growing.
Giora Eiland, a retired IDF general and former national security adviser, says that Israel's leaders must immediately shift their priorities and refocus on the looming danger.
While the prospects of war are not certain and the timeline remains unclear, this scenario is more severe compared to earlier assessments, Eiland says. The Israeli government must recognize that the threat could escalate into an existential challenge within months, he warns.
According to Eiland, the danger of war is rising due to changing dynamics in the region. He says that Iran is gaining confidence and strength due to its elevated strategic positioning and upgraded military power.
Russia's need for Tehran's support, China's increasing engagement, Saudi Arabia's growing vulnerability, and US concerns collectively contribute to Iran's perception of enhanced influence.
In parallel, Iran successfully developed accurate weaponry for itself and its proxies, Eiland says. Previously, Israel had a clear advantage with its precise weapons against less sophisticated enemy rockets and missiles. However, Tehran is rapidly producing and deploying precision-guided missiles and strike drones.
Coordinated Iranian assault
Iran believes that it can coordinate attacks by proxies such as Hezbollah and militias in Syria, Iraq, and Yemen. This may enable Tehran to execute a synchronized assault on Israel from multiple directions, with Gaza terror groups joining the fray.
According to this perspective, Israel could potentially face an overwhelming challenge [see detailed Israel-Iran war scenarios].
Eiland stresses that the Israeli government must end any distractions that undermine the military. Given the escalating danger, the nation must focus its energies on countering the Iranian mega-threat.
Eiland's warning about the Iran threat is reinforced by other assessments. Brigadier General Oren Setter, one of the IDF's top Iran experts, recently warned that the danger posed by Tehran has become broader and multidimensional.
The Iranian threat could eventually become existential, said Setter, who closely monitored Tehran's actions for almost 20 years. He noted that the Ayatollah regime is obsessed with Israel's existence and presents a unique challenge.
"They are not a crazy state, nor are they a completely rational state," he told Haaretz daily in an interview. "If the regime there does not fall, they will be our enemies for the coming decades."
New era of risk for Israel
Another assessment, by three high-ranking IDF officers, contends that Israel now faces a new era of security risks. Iran could create a new military equation by triggering a full-scale war, according to General Yaakov Bengo, Colonel Nir Yanai, and Major Yonatan Nevo.
A regional war raises the potential for a protracted conflict due to possible backing for Iran from Russia or China. Moreover, high-profile damage could degrade Israel's deterrence in the aftermath of significant hostilities, the analysis warned.
An extended conflict against the Iran axis would present an extreme test for the IDF. It would also unsettle the civilian home front, the officers wrote. Such war carries the potential to yield considerable casualties and widespread devastation.
The assessment noted that this war scenario represents a departure from Israel's strategy, which traditionally aimed for swift victory by shifting warfare to enemy terrain. This will be difficult to achieve in a multi-front battle.
6,000 rockets per day
An IDF assessment estimates that the Iran axis, led by Hezbollah, will target Israel with 6,000 daily rockets and missiles in the initial phases of war. This will be followed by a daily average of 1,500-2,000 rockets.
The Heavy barrages would cause an estimated 500 civilian deaths and thousands of injuries.
The Israeli war scenario also considers the possibility that Hezbollah, Iran, or other proxies will hit critical infrastructure such as power plants. This could cause significant disruption, including prolonged electricity outages lasting long hours or days.
To counter these threats, Israel will elevate the defenses of strategic sites by refining the deployment of Iron Dome and other anti-missile systems, in addition to other measures.
On a broader level, the IDF is preparing for a direct clash with Iran that triggers a large-scale battle.
New IDF intel unit
The IDF Intelligence Directorate spearheaded the formation of a new unit focused on Iran, Ynet reported this year. The unit's primary role is to provide crucial intelligence for a broad military conflict with Tehran, the report said. The mission of this select group of analysts is to delve deeper into key Iranian targets and combat strategies.
The IDF realizes that a regional Israel-Iran war represents a different kind of conflict, which demands substantial resilience and endurance from the Israeli population. According to an earlier report, Israel will shift to a war economy to prepare for a large conflict.
In parallel, Israel is building its military power for a full-scale war with Iran. The army, led by the Air Force, is boosting its capacity to hit strategic sites in Iran beyond its nuclear program.
The IDF is also advancing a massive effort to expand the arsenal of munitions needed for extensive warfare. In parallel, the Air Force is upgrading the capabilities of its F-35 squadrons for complex strike missions.
While much remains uncertain about a future war, one thing is clear: Unlike limited clashes in Gaza, the IDF will unleash its full power in a regional conflict against the Iran axis.