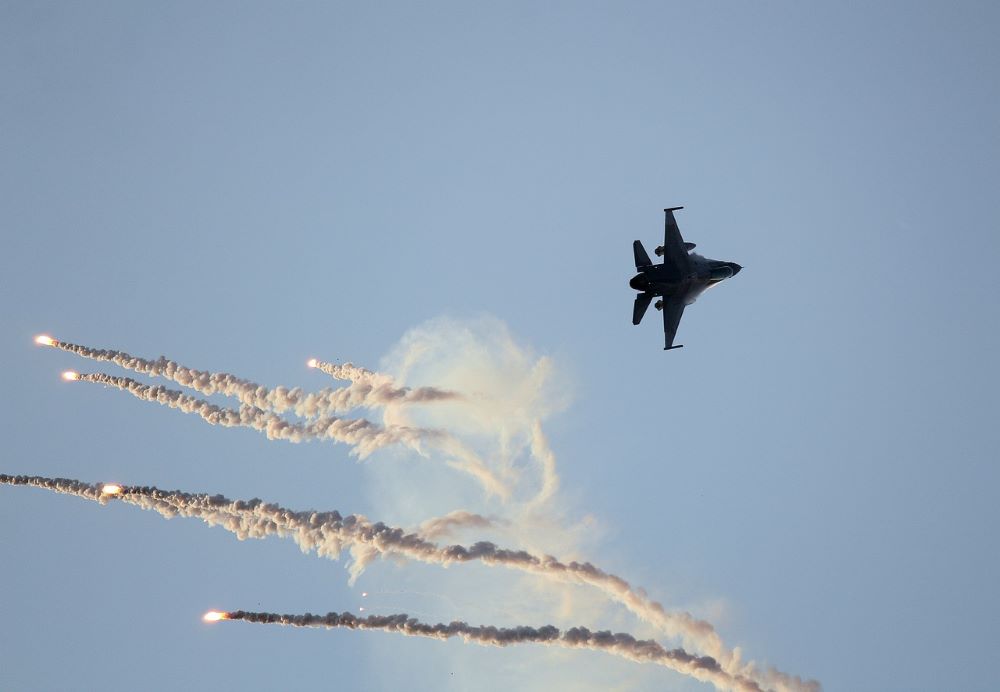 What happened in Syria on the night of March 4, and why is the IDF adopting a more aggressive posture?
Initial reports out of Syria late on March 4 indicated that Israel allegedly carried out an unusual strike. However, it was hard to understand exactly what the fighter jets targeted. Some sources said that the IDF hit an arms shipment, while others claimed that it bombed Syrian army positions.
Speculation continued until two days later Yediot Aharonot daily dropped a bombshell. There was reason to believe that Israel attacked a chemical weapons production facility, the paper's military correspondent Yosi Yehoshua wrote.
Yehoshua is a well-connected journalist, so we can assume that he did not just invent this. He likely spoke to a source in Israel's defense establishment before publishing the story, and later tweeted that Israel updated the US before the strike.
Bombing a chemical weapons plant is certainly unusual, and leads to some interesting questions: Is Israel concerned that the Iran axis plans to attack it with unconventional weapons? Or was this a harsh message to President Bashar Assad to do something about Iranian and Hezbollah forces in his country?
In any case, this attack raises the stakes in the ongoing Syria confrontation. And then came a mysterious assassination of a high-ranking Iranian officer.
Who Killed the General?
On Saturday March 7, Iran's official news agency said that General Farhad Dabirian was killed near Damascus. Details were sketchy, but other sources reported that the senior Revolutionary Guard commander was shot to death.
Israel naturally kept mum but is no stranger to such assassination operations. The Syrian Observatory for Human Rights noted that Dabirian was closely associated with Hezbollah Chief Hassan Nasrallah, Israel's archenemy.
Meanwhile, the IDF apparently targeted terrorists in the Golan Heights on several occasions recently. In one of the strikes, the army reportedly killed a Hezbollah expert involved in setting up a military infrastructure near Israel's border.
Hezbollah efforts to establish a terror unit on the Golan prompted an IDF debate about the severity of the threat, military reporter Tal Lev-Ram wrote in Maariv daily in February. The latest attacks indicate that the army decided to counter it aggressively, he now says.
Rare Strategic Opportunity
It surely looks like Israel is taking a bolder approach in its fight against Iran and its proxies. But why now? One explanation is that circumstances in the region are overwhelmingly in Israel's favor at this time.
Iran has been facing economic woes, domestic unrest, regional pushback, the killing of top general Soleimani, and now a Coronavirus outbreak that seems out of control. It appears that the last thing Tehran needs at this junction is to get into a firefight with the IDF.
Hezbollah has also been struggling abroad (fighting Turkish forces in Syria) and at home (as Lebanon copes with a political and economic crisis). Even Russia, which seems to object to Israel's military campaign in Syria, has been preoccupied elsewhere with the Syrian-Turkish flareup.
Strategically speaking, if Israel ever wanted to boost the pressure on the Iran axis, this is the time for it. Israeli war planners have also noticed no doubt that Iran continues to refrain from major retaliation despite many opportunities to do so.
For now, the IDF will continue to deliver blows in Syria (and possibly elsewhere). As always, the question is whether Israel will eventually cross an Iranian red line and trigger a harsh response. If and when that happens, the Israel-Iran fight will enter a much deadlier phase.