IDF builds unique training site replicating urban areas hit in missile war; latest drill tests response to Gaza rocket attack on hotel; earlier exercise simulated unprecedented devastation in Tel Aviv.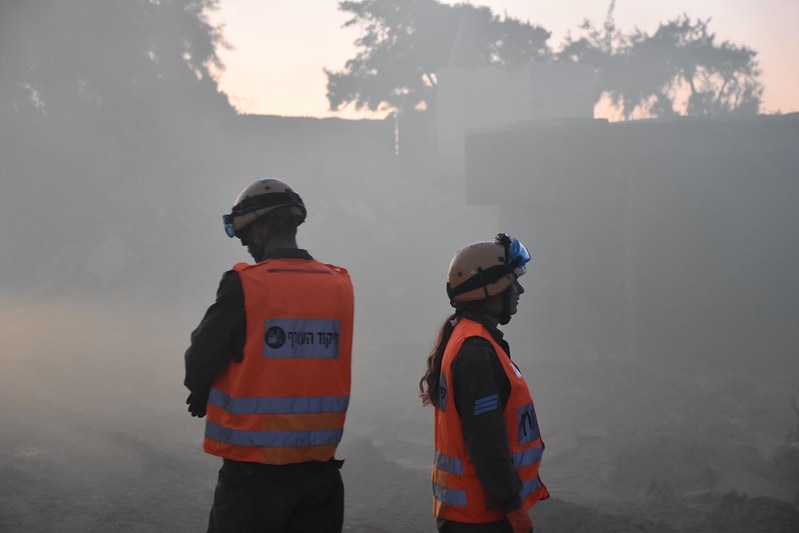 The IDF is boosting its preparations for a missile assault on Israeli cities. As part of the effort, the army built a large training site to simulate search and rescue operations in areas devastated by incoming missiles.
The facility is located in an IDF base and enables forces to engage in unique training sessions, Israel Hayom reported.  
"The compound simulates cities and streets in Israel, above and below ground," a senior officer told the newspaper. The army used 1,000 cement slabs left over from the light railway project in Tel Aviv to build a model of a train station, he said.
Meanwhile, the IDF's Rescue Brigade held a drill simulating a Gaza rocket attack on a hotel for Coronavirus patients. The army carried out the exercise in a hotel slated for demolition in the town of Arad.
The forces took advantage of a rare opportunity to simulate the collapse of the building.
Missile War Drill in Tel Aviv
Last month, the IDF and rescue services held a major drill to simulate missile attacks on northern Israel towns, including Haifa. Later, the chief of the IDF's Air Defense Division warned that Israel is moving closer to facing a missile offensive that will require the army to activate its multilayered anti-missile defenses.
Earlier this year, the IDF held an unprecedented exercise simulating missile hits on two buildings in Tel Aviv, Ynet reported. The scenario featured vast devastation and casualties. As part of the drill, the army mobilized more than 500 search and rescue forces, some via helicopters and planes.
The Rescue Brigade's outgoing chief, Yossi Pinto, told Ynet that in the next war the IDF will be dealing with dozens of destruction sites in parallel.
The IDF's Search and Rescue Brigade was set up in 2013 and is headquartered south of Tel Aviv. Notably, the rescue force recruits both male and female soldiers. The Brigade also specialize in rescue missions at sites hit by unconventional weapons.