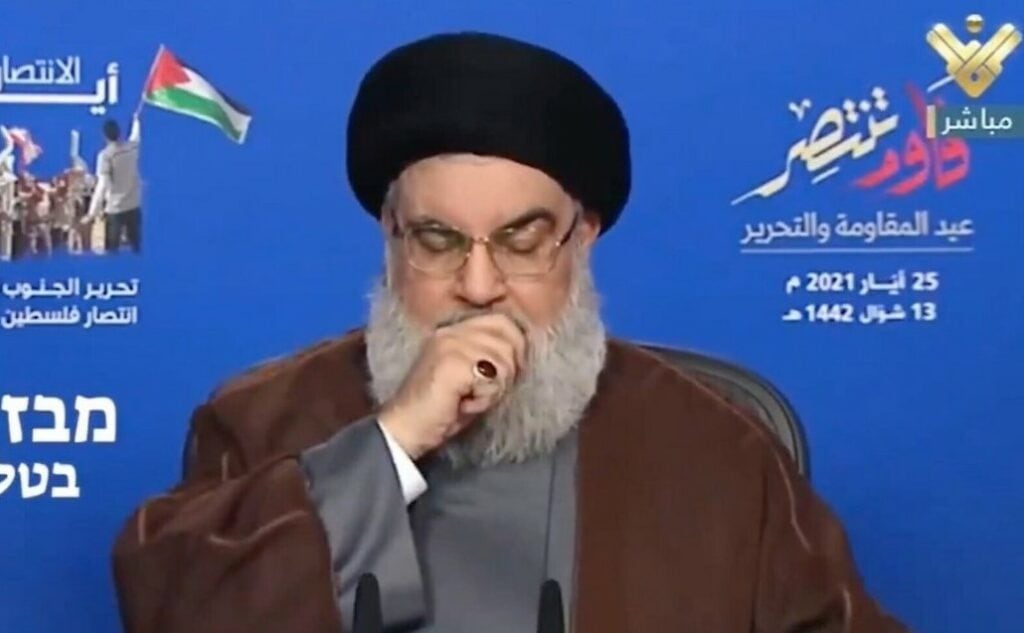 Israeli defense officials believe that Hezbollah leader Hassan Nasrallah is sick with COVID-19. The estimate follows Nasrallah's frail appearance in a speech Tuesday evening.
The Hezbollah chief was visibly ill and acknowledged that he has not been well recently. He had trouble speaking, coughed throughout the televised address, and appeared to be thinner and paler compared to previous occasions.
Defense officials said that Nasrallah may be scared to leave his bunker to receive medical treatment, N12 News reported.
The IDF's intelligence experts closely monitored Nasrallah's speech to evaluate both his messages and health. Notably, the army employs a doctor who specializes in assessing the condition of enemy leaders based on their public appearances. The full findings of his latest report will likely remain classified for the time being.
Weak Nasrallah threatens Israel
The longtime Hezbollah leader spoke on the 21st anniversary of the IDF withdrawal from Lebanon, warning that Israeli actions in Jerusalem could spark a regional war.
The Hezbollah leader had little choice but to deliver the speech despite his condition as not to trigger graver concerns among the group's operatives and fans, a security official told Walla! News. However, defense officials said that Nasrallah made a mistake by trying to threaten Israel while looking so weak, N12 reported.
A senior defense source hinted that Israel hopes that Nasrallah survives, noting that he restrains more radical forces in Lebanon and elsewhere, the Walla! report said. Notably, experts who drafted a psychological profile of the Hezbollah chief wrote that he has been far more cautious since the 2006 war against Israel.
Meanwhile, Hezbollah spokesmen posted an unusual number of threatening videos and messages aimed at Israel in recent days. Defense officials estimate that the threats are linked to Nasrallah's condition, Walla! said.
The Lebanese group may fear that the IDF could see an opportunity to attack Hezbollah at this sensitive time. Israel is particularly concerned about the group's efforts to produce high-precision rockets and is considering a preemptive strike to neutralize the growing threat.