Plague of biblical proportions, mounting tensions increase the risk of deadly eruption on Temple Mount; Is Israel facing a violent summer in Jerusalem?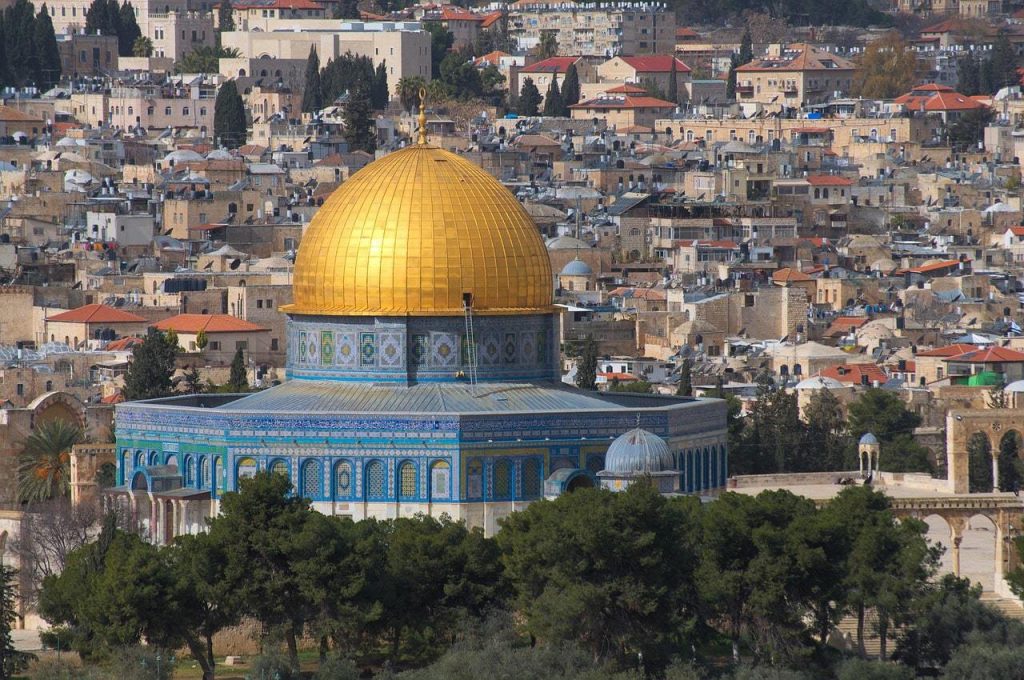 Temple Mount, the ultimate flashpoint of the Israeli-Arab conflict, may be about to erupt. The reopening of the holy site Sunday after more than two months could not have come at a worse time. The recent killing of an unarmed East Jerusalem man, and the upcoming Israeli annexation of West Bank land are adding fuel to the fire.
The unprecedented closure of Temple Mount due to the Coronavirus pandemic created lots of pent-up anger. Moreover, this plague of biblical proportions inspired a heightened sense of religious mysticism and an end-of-days atmosphere.
Under such circumstances, conspiracy theories are rife and longtime fears are magnified on both sides of the divide. Jews and Muslims are ready to protect their spiritual assets from real or perceived danger, and some may take extreme measures to do so.
The Muslim side is already gearing up for a battle over Corona prayer restrictions. Veteran Temple activist Arnon Segal warns that both sides are on a collision course. The Mount's Islamic administration will turn it into a "daily scene of confrontation" as it fights to assert its control, he says.
'Great Dawn' on Temple Mount
Friction at the site has already started. On Sunday, police arrested eight Muslim worshipers for disrupting Jewish visits and chanting militant slogans. These included the familiar "With our spirit and blood we will redeem Al-Aqsa."
The Muslims are also renewing the Hamas-inspired "Great Dawn" initiative, says Mideast analyst Yoni Ben Menachem. This campaign of mass prayer sessions on Temple Mount and in Hebron's Cave of the Patriarchs draws Palestinian hardliners and features calls for violent action. (The below video shows Muslims rushing in as the Mount reopens)
A new book by Jerusalem expert Nadav Shragai tracks the central role of Al-Aqsa conspiracy theories in fomenting Arab violence. The work chronicles a long list of murders and attacks inspired by Muslim devotion to Temple Mount.
"The Muslim public chooses time and again conspiracies, terror, and a path of 'all or nothing,'" Shargai writes. "As far as the 'Al-Aqsa is in danger' libel goes, they're unwilling to listen. They're unwilling to think, and the facts are wholly irrelevant to them."
The book cites chilling examples of incitement at the Mount. In a 2014 sermon, preacher Omar Abu Sara compared Jews to pigs and called to slaughter them. Now, major bloodshed is indeed quickly becoming a real possibility.
Drone Tests Mount Security
On the Jewish side, fears and frustrations are also growing. Activists are angry over longtime restrictions on Jewish prayers and visits, and view the Muslim Waqf that administers the Mount as as a mortal enemy. Last week, the United Temple Mount Movement urged the government to expel the Waqf from the site.
Meanwhile, the Corona pandemic inspires mystical thinking and stirs religious passions. Rabbi Yisrael Ariel, who heads the Temple Institute, linked the raging plague to the failure to perform traditional Jewish rituals on Temple Mount. Ariel called on the government to permit the slaughter of a sacrificial animal at the holy site in a widely publicized article. (The photo below shows activists reenacting the Passover sacrifice ceremony).
The police and security services are on high alert to prevent any acts of violence that could spark widespread unrest or a holy war. Special units are stationed around the holy compound and closely monitor events around it using advanced technological means.
In late March, police officers shot down a drone (image below) flying near Temple Mount and arrested a suspect. Authorities did not provide further details on this sensitive and highly unusual incident. Notably, Israel imposes a no-fly zone around Jerusalem's Old City and importers often pre-program drones to prevent flights in the area (see interesting article about this).
The coming months promise to be tense as pressures continue to build up. Ancient passions, political rage, and a demonic plague that some see as the wrath of God combine to create a uniquely dangerous mood. If things go wrong, one of the world's holiest sites could erupt in violence this summer.